Kurumi Momose
Information
Age
Gender
Female
Japanese Seiyū
Kana Ueda
English Voice Actor
Melissa Davis
Kurumi Momose is a student in class 1-C and one of the main characters.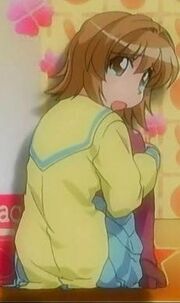 Personality
Edit
Momose is plain, causing many people to forget about her (including herself at times). At first she seems to be very dismayed by this and sulks but later her reaction calms down. Although she will still sulk and when she does typically goes to the rabbit pen, claiming that they are her only friends.
Appearance
Edit
Momose as medium length light brown hair, and brown eyes. She is typically shown wearing the school uniform.
Ad blocker interference detected!
Wikia is a free-to-use site that makes money from advertising. We have a modified experience for viewers using ad blockers

Wikia is not accessible if you've made further modifications. Remove the custom ad blocker rule(s) and the page will load as expected.