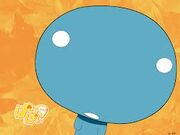 The Giant Salamander
Edit
Giant Salamander (オオサンショウウオ Ōsanshōuo) [1]
Japanese seiyū: Sayaka Ohara, Asuka Nakase, Ai Nonaka, Sawa Ishige, Ryoko Shintani, Chieko Higuchi, Chiwa Saitō English voice actors: Mariela Ortiz, Christine Auten, Monica Rial, Andy McAvin Giant Salamander first appears in episode five, caught from a river by Ichijo to fill a spot as another camp member. He ends his sentences with "kero". Sometimes he is eaten by someone, and his seiyū and body color changes every time after that. In English, his voice is not changed quite as often. He is also known for conversing with the various animal characters in the show, for instance, Mesousa and Lord Cat. One other thing rather unique to The Giant Salamander, is that with his announciation of words, Japanese symbols flow out from his mouth, giving a visual representation of what has just been said. In some instances, these floating characters act as a translation for the indistinguishable noises he makes.
Recurrence
Edit
The Giant Salamander, though he first appears outside Momotsuki Academy, is usually confined to the interior or exterior of the school. Usually his appearance is like that of Lord Cat's and i [2]The Giant Salamander with a changed colour.Added by Lord Catintended to act as comic relief in the show. When in conversation, one thing that is constantly brought to the attention of those he is speaking to, is that he is a protected species. For instance, when asked by The Old Geezer as to who it is, sitting in his class (Giant Salamander), his reply is: "I'm a protected species, Kero."Just like Lord Cat, The Salamander changes colour and is seen interacting with main characters, for instance, in Episode Fourteen, he helps Rebecca cook. He can also be seen to hold contempt for Mesousa, for seemingly no reason whatsoever.
"I'm a protected species, Kero."
(To Mesousa) "Here, play with this, you litte brat."
(Whilst in Miss Igurashi's car) "'I'm pretending to drive! VWOROZOSOROZOROOSRZ!!!!!" "You should become a protected species, then everyone will be nice to you, Kero."