Zula
Information
Age
Gender
Female
Japanese Seiyū
Mugihito
English Voice Actor
Eve Jones
Zula is a girl, though she looks like a guy. Because she is from some foreign country, her Japanese is not so fluent and polite. In the anime episodes, she sometimes appears with a curious bird-like costume inspired from the classic manga of Yasuji Tanioka, saying "Asa nanoyo" (literally meaning, "The morning has come!").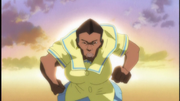 Ad blocker interference detected!
Wikia is a free-to-use site that makes money from advertising. We have a modified experience for viewers using ad blockers

Wikia is not accessible if you've made further modifications. Remove the custom ad blocker rule(s) and the page will load as expected.